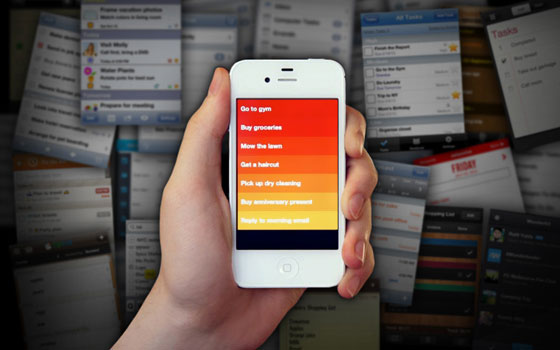 To-do list apps are never that exciting – in fact, most of them simply rehash the same ideas. Different lists, and items you check off underneath each. But today a new app launched that has had a few user interface desginers very excited. You see, Clear does not follow any user interface guidelines which most good designers seem to agree with. Instead it uses an interface entirely devoid of buttons.
Users use a combination of pinches, drags and sweeps in order to create and complete tasks. In fact, the only familiar part of the interfaces is the occasional keyboard that pops up. Here is a basic guide to using the app:
- Pull down on a list to add an item
- Swipe an item right to complete it
- Swipe an item or list left to delete it
- Pinch apart two items to insert a new one between them
- Pinch vertically together to close the current list and show all the lists
Any items in your list can have a colour associated with it, but you simply hold them and drag them to the priority you want. You might want to check out this hands on demo of the app:
The one great thing with Clear is that because it does not necessarily follow any platoform's user interface guidelines, it has the potential to be made available on any touch based smartphone operating system. I would not be surprised to see Clear land on Android and Windows Phone 7.
Have you tried Clear? What do you think?
You can download Clear from the Apple Appstore
Update: Clear has gone to the number one spot in almost all iTunes territories within one hour! Ka-Ching!